Support – Admin Console (iOS)
Bring Your Own Device (BYOD)
BYOD (iOS)
It stands for Bring Your Own Device which devices are owned by students.  Even though they are purchased through school bulk purchase schemes or from retail shops.
BYOD profile is simply a tag to a device.  Device Name is physically attached to the device, whereas BYOD profile is a set of information attached to the ESP Student app which is installed on the device.
The purpose of BYOD profile is to identify the ownership of the device.  Such information cannot be displayed in TeacherPad+, and only can be seen in ESP Student app on the device.
Set devices as BYOD : "Device" > "Device Management" > "Bulk Action" > "Special" > "Set BYOD"
Set BYOD profiles to devices : "Device" > "BYOD" > ( ⋯ ) (Top righter corner) > "Import from EXCEL / CSV"
Make sure the new device has been added MDM.
Mark down the Serial Number of the new device.

Go to "Device" > "Device Management" > "BYOD" > Find the Student > "Action" > "Edit" >

Scroll Down to find Device Serial Number > Replace with the new one

> "Save"

Please note the

Device Registration Code

has been updated and

send to the parent for pairing.
You have to input the photo filenames in the excel for upload. The compress all photos in a .zip file and upload together with the excel file

Please note the zipped file size limit is 20MB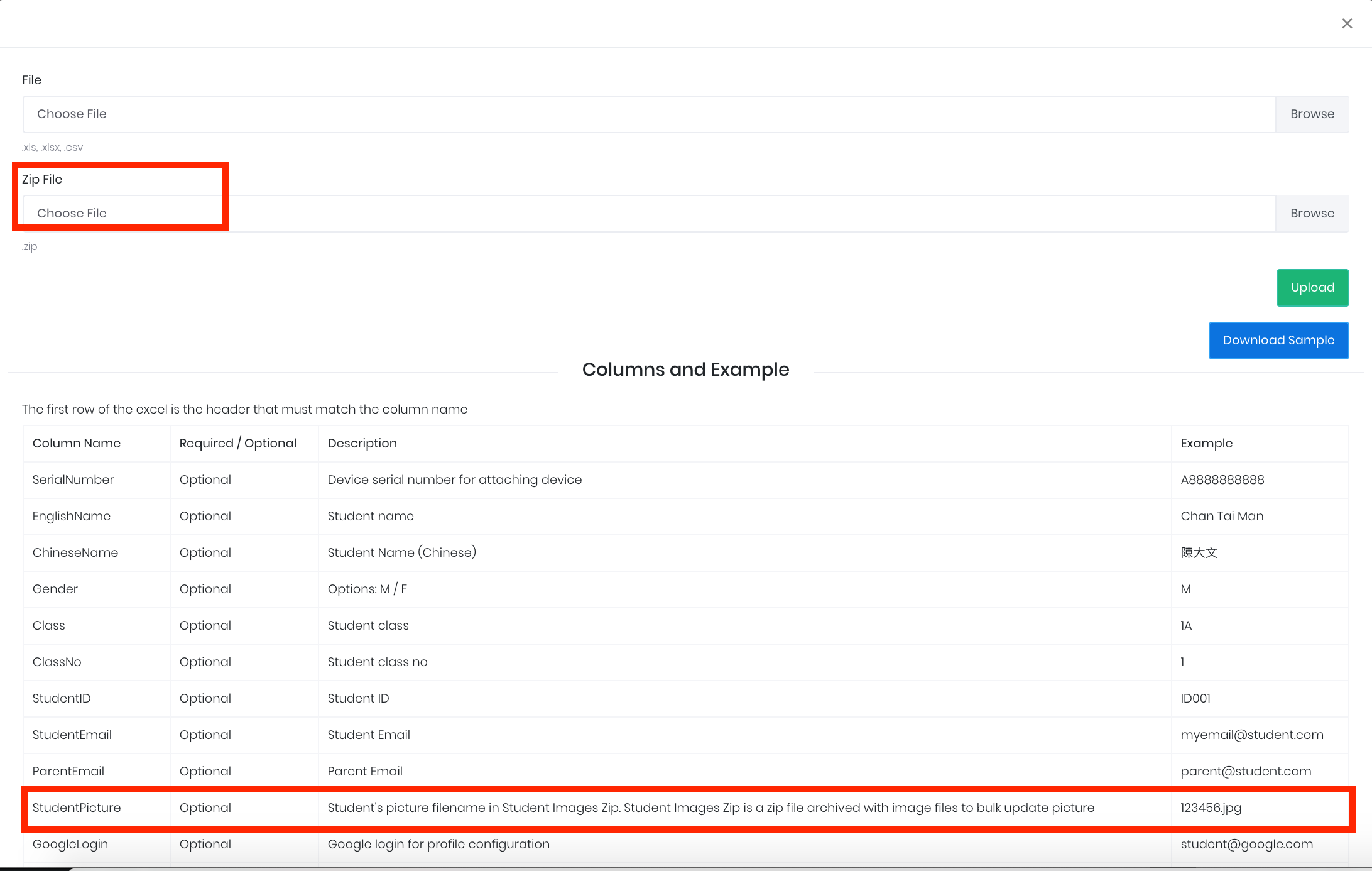 In ESP, those devices tagged with BYOD will be able to enjoy the following convenience:
Send Email to Students

Send Email to Parents

Set schedule for school time

Match individual devices with Parent MDM
Integration with Google and Office 365 Accounts
The benefits of setting devices as BYOD are:
Set a schedule for school time
Match individual devices with Parent MDM
Integrate with Students' Google Accounts
Integrate with Students' Microsoft 365 Accounts
There are 2 steps you have to proceed:
Step 1 – Set BYOD Tag
Select a device label in "Device Management"
Step 2 – Set Students' BYOD Info
Go to "Device" > "BYOD"

 

Download the Sample and fill up information > then upload to ESP